Jamesway
---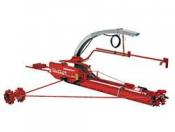 Magnum II Silo Unloader
Models available for 12' - 30' diameter silos. 1/4" thick "Saber Edge" augers with 16 degree forward pitch offer superior performance and unmatched durability. Reliable torque arm assembly. Easy-to-adjust balance weights. Durable 10" wall wheels feature durable polypropylene construction. Massive blowing power from the Super-Duty impeller.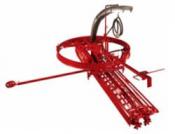 Pow'r Ring Silo Unloader
Direct coupling drive. Large 7'4" drive ring. Exclusive twin "Saber Edge" augers. Adapts to your existing tripod or hexapod suspension. Models available for 14'-24' diameter silos. Free floating drive system with direct coupling positive ring and gear tooth engagement design. Center position guide wheel provides balanced, positive ring drive performance and stability. Large 7'4" diameter channel drive ring made of 7-1/8" x 3/16" thick steel with 2" drive lip for outstanding ring drive leverage.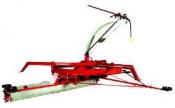 Volumaxx Silo Unloader
Models available for 12' - 24' diameter silos. New 10" high performance roughage auger features 16º forward pitch flighting. New high-volume impeller features stainless steel band and reversible stainless steel paddles. Self-adjusting cantilevered "walking pressure wheel". Independent power ring models feature high-efficiency drive.
---