Jamesway
---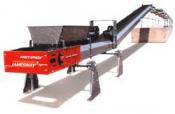 DIRECTXPRESS Belt Feeder-Conveyor
14" belt feeders for single or divided lot operations. 18" belt feeders for multi-lot operations. Direct drive gearbox reduces maintenance. Exclusive Jamesway chain system eliminates the constant adjustment required by cable drive systems. 2-1/2', 5' and 10' 16 gauge galvanized steel sections available.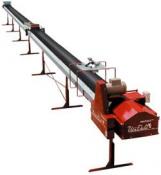 MAXIM1 Belt Feeders
Heavy duty motor mount and stainless steel adjusters make system easy to maintain. Floating V-plow allows for side-to-side switching for single or split lot feeding. Chain drive for reliable performance. Choose either T-stands or arched stands to support feeders. Chain attaches under the plow with a Pitman arm which follows the chain the length of the feeder, reversing direction as it rounds the drive and idler sprocket. Chain tension is easily adjusted.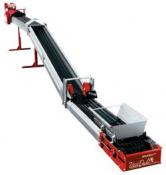 MAXIM1 Belt Conveyors
High capacity 16" wide belt conveys any type of forage, ground feed or TMR at high speed and low horsepower up to 180 feet. Smooth belts are available for up to 15 degree inclines. Textured belts are available for up to 30 degree inclines. 10, 5 or 2.5 ft sections with extra wide galvanized splices. Incline or decline sections available.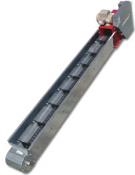 9" Single Chain Conveyor
The intermediate sections are available in 8 ft. 3 ft or 1 ft length. "Snap-in" upper pans makes replacement a snap. The strong and simple double reduction drive is reliable in all conditions. The galvanized shield is hinged for easy service.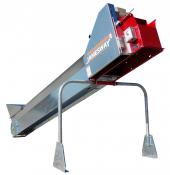 11" Single Chain Conveyor
This workhorse has a unique shaped tail assembly that prevents jamming and virtually eliminating bent paddles. The tail is 100% galvanized and the bolted wrapper band is easy replaceable. The heavy duty section are fully enclosed for weather protection and safety. The riveted construction is stronger than competitive formed sections and the interlocking finger joint prevent chain snagging. Drop in wear liners are available.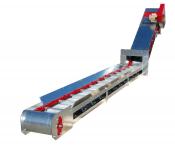 16" Double Chain Conveyor
The unique "zero-maintenance" design requires no lubracation, no ajustements and has no bearings or sprockets to replace. The 16" wide upper deck is covered with UHMW and the galvanized sides flare to 20" wide at the top. The chains run under full lenght hold-down bars. The incline elbow is heavy duty, with inspection doors. It includes galvanized cover. The drive section includes tensioners for conveyors chain. Fully enclosed drive includes covers.
---